T H E C O R N E R S T O N E C A B I N
~ Ashford Lodging at Mt. Rainier ~
HOME | PHOTOS | AMENITIES | PRICES | POLICIES | RESERVATIONS | AREA | LINKS | SPECIALS
CONTACT INFORMATION:
The Cornerstone Cabin
Rick & Theresa Cooper
Cabin Location (not mailing address)
38209 SR 706 E
Ashford, WA 98304

253-232-2436 Rick cell/text
253-226-2433 Theresa cell/text
info@thecornerstonecabin.com

Check your dates for Availability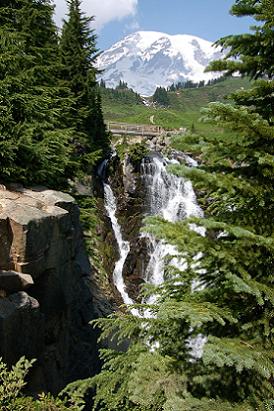 Myrtle Falls, Mt. Rainier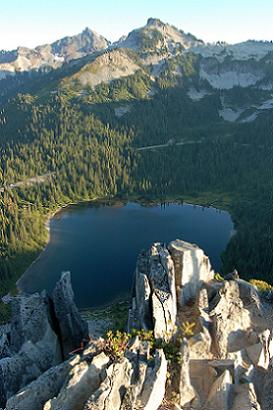 Louise Lake from Far Away Rock

Reflection Lake at Mt Rainier
Mt. Rainier
With the Paradise entrance to Mt. Rainier National Park just a few minutes East of the cabin, to visit the beauty there is a must see. Entrance fee is $25 per car load (valid for 1 week) or $50 for an annual pass. The mountain has plenty of views that can be seen from the car, and many more viewed from short jaunts to the 93 mile long Wonderland trail that encircles the mountain itself! Longmire has a museum, small store, hiking center, rest rooms, restaurant and Inn. Paradise has a vistors center with learning center, gift shop, restaurant, and rest rooms. Plus there is an Inn remodeled in 2014. For more information also try: Visit Rainier.
Ashford
Located just 5 minutes West of the cabin, Ashford has a pottery shop, gift shops, an espresso stand, a few restaurants, a few stores, gas station, post office, mountaineering center, and lodging available. Start looking for the elk in the fields here! Need more local information like snow shoe rental places? Here is a great informational website: Visit Rainier.
Elbe
The Scale Shack has great shakes and burgers! There are other great places to eat as well, grocery stores, gas station, along with a couple of espresso stands, and a post office. There is also Horse Back Riding available! Located just 10 minutes West of the cabin.
Alder Lake
This large reservoir is fed by the Nisqually River, which originates at the Nisqually Glacier on Mt Rainier. Alder Lake is located just 15 minutes West of the cabin. There are boat ramps and docks for mooring, fishing, water sports, swim areas, picnic and camping areas. The day areas at Rocky Point Recreation Area and Sunny Beach Point do not charge for day use, but the main entrance to Alder lake at Alder Lake Park does charge a day use fee in the summer months.
CURRENT SPECIAL
Contact Information
Arbonne - pure ~ safe ~ beneficial Vegan nutrition, skincare, haircare, and makeup. Website for more info on these Vegan products.
Back to top of page