T H E C O R N E R S T O N E C A B I N
~ Ashford Lodging at Mt. Rainier ~
HOME | PHOTOS | AMENITIES | PRICES | POLICIES | RESERVATIONS | AREA | LINKS | SPECIALS
CONTACT INFORMATION:
The Cornerstone Cabin
Rick & Theresa Cooper
Cabin Location (not mailing address)
38209 SR 706 E
Ashford, WA 98304

253-232-2436 Rick cell/text
253-226-2433 Theresa cell/text
info@thecornerstonecabin.com

Check your dates for Availability
OWL'S ROOST ROOM
Owl's Roost Single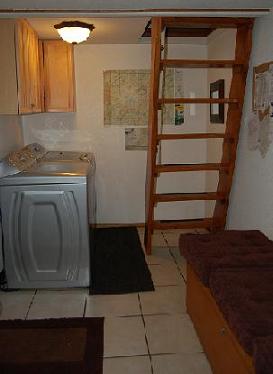 Entry to Owl's Roost
Ladder opening in Owl's Roost

Deer at the Cabin
THE CORNERSTONE CABIN ~ at Mt Rainier
Availability Calendar: Dates in GREEN may be currently available, Dates in RED are paid for and reserved. Please do call or email for current availability as we will hold dates that have a payment pending. They will not be listed on the calendar until payment has been received.
Reservations: Contact us by email, phone, text to reserve a cabin. To reserve the cabin, we require the full payment in advance. This cabin is a self-check in cabin and no one will be available to take payments at the door. We accept payment by credit/debit card payments using our online PayPal account or thru VRBO.com. To pay through PayPal, we will email an invoice link so that you can enter your credit card information securely.
Check in: Once we receive your payment we email your confirmation with your 4 digit lock code for entry, directions to the cabin, etc a few weeks prior to your check in date. The 4 digit code opens a lock box with a key inside it for entry to the cabin. You may check in at any hour after your appointed time, since no one will need to greet you and give you a key. Late check in times are not an issue.
CURRENT SPECIAL
Contact Information
Check your dates for Availability
Arbonne - pure ~ safe ~ beneficial Vegan nutrition, haircare, skincare, and makeup. Website for more info on these Vegan products.
Back to top of page